D3
The Spin Polarised Hot Neutron Beam Facility
CCSL | FullProf | Liquids
CCSL
CCSL is a library of subroutines for doing crystallographic and related calculations. It is designed not so much as a set of programs for determining and refining structures, for which several other systems are available, but as toolbox to allow the crystallography of non-trivial structures to be easily introduced into user programs.
The full documentation and download page can be found here.
Liquids
A Matlab-based script is available on the instrument computer. All necessary steps are explained in the manual which can be downloaded here (pdf - 23 Mi).
---
Mag2Pol is a program for the analysis of single-crystal and powder diffraction data. Nuclear and magnetic structures can be refined from spherical polarimetry and flipping ratio data as well as from integrated intensities and powder patterns.
(mp4 - 77 Mi)
Mag2Pol is distributed under the LGPLv3 (Lesser Gnu Public License version 3). A copy of the license text can be invoked from the About window within the program. The source code of the dynamically linked Qt libraries can be obtained here (zip - 1.52 Mi) (note that the original code was not modified). The QCustomPlot library can be downloaded here (zip - 225 Ki) or from www.qcustomplot.com. The Eigen library was obtained here (eigen.tuxfamily.org). You can also consult the Privacy Policy (pdf - 34 Ki).

If this program was useful for analyzing and publishing your data, please cite it as J. Appl. Cryst. 52 175 (2019)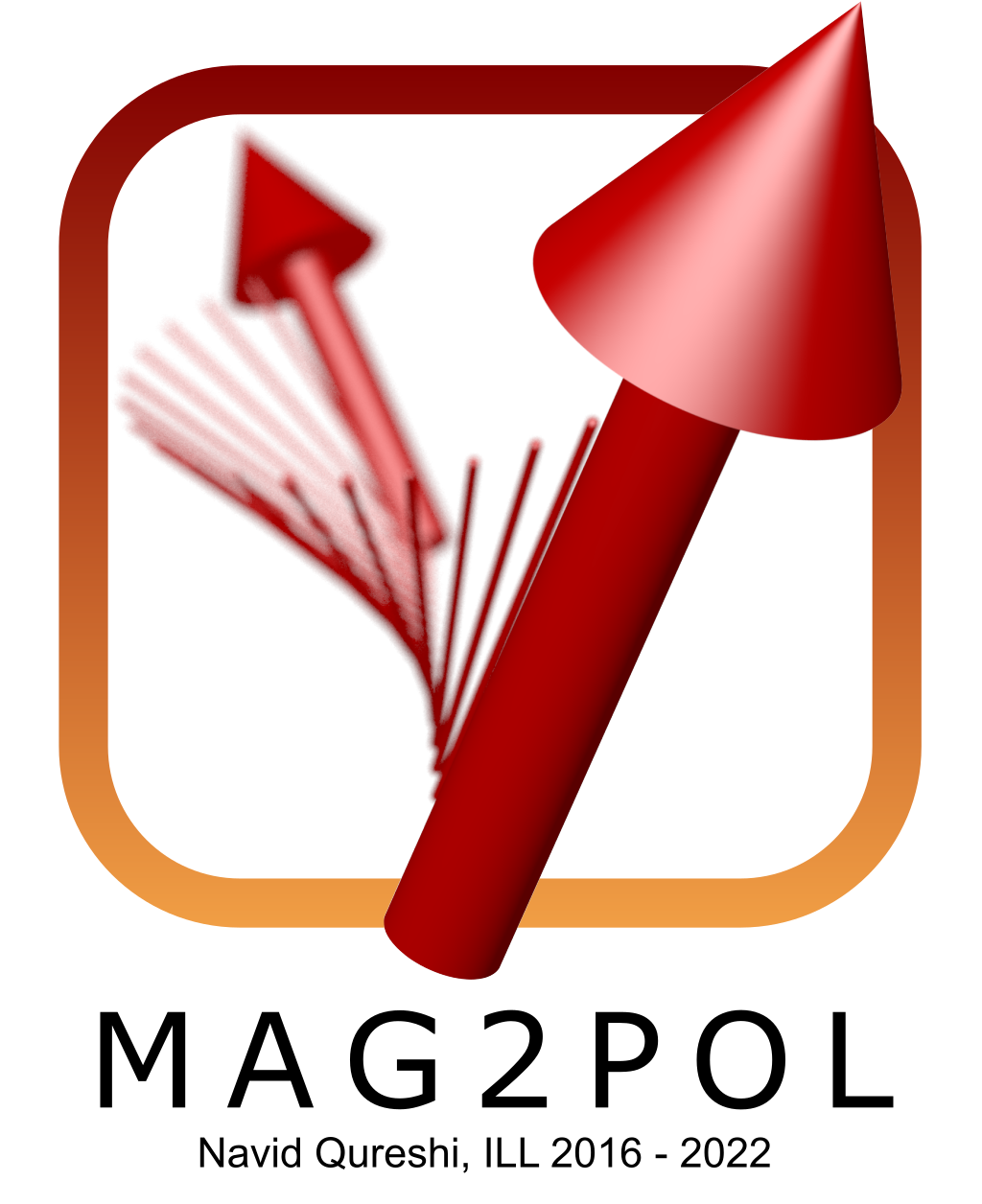 ---
Features
intuitive GUI for setting up nuclear and magnetic structures
simple handling of magnetic domains
OpenGL widget for 3D view of structures including simple plot controls
calculation of structure factors (neutron or X-ray), flipping ratios and polarization matrices
refinement of nuclear and magnetic structures including the populations of unlimited magnetic domains and structural twins
correlated refinement using polarimetry data, integrated intensities and powder patterns with optional linear constraints
creation of reflection lists and intensity maps, powder patterns and magnetization density maps (also in 3D and for non-orthogonal systems)
supports 4-circle, normal-beam, minimum-tilt and cryocradle geometries
correction of polarization data for 3He spin-filter cell efficiency
simple creation of user-defined (magnetic) form factors as linear combinations of built-in ones
multipole expansion of magnetic form factors
absoprtion correction of integrated intensities for simple and arbitrary sample shapes
calculation of irreducible representations
calculation of the spin-spin correlation function, the scattered intensity and the magnetic pair distribution function from an ordered magnetic structure or from a reverse Monte-Carlo simulation result from the Spinvert program
production of publication or poster quality figures
batch refinement of powder patterns with simple visualization of fit parameters as a function of temperature, composition or pattern number
pattern plotter (1D, 2D and 3D) also allowing simple manipulations of powder patterns (offsets, subtractions, etc...)
tables for crystallographic space groups, magnetic space groups and magnetic superspace groups including transformation and preview tools
---
Examples
Mag2Pol has been successfully tested and used on different data sets, see for example Qureshi et al., Phys. Rev. B97, 064404 (2018), the corresponding example files can be obtained here (zip - 10.83 Ki).
The refinement on flipping ratios using a multipole expansion of the magnetic form factor has been tested on the data set from Aronica et al., Chem. Eur. J.13, 3666 (2007), the example files can be obtained here (zip - 7.36 Ki).
Further examples:
The program is certainly not 100% bug free. In order to improve it, please send bug reports by email.
A manual (pdf - 7.38 Mi) is included in the packages and can be accessed via the menu Help. See also the demo videos at the bottom of this page or on YouTube.
The screenshot videos to the right demonstrate the main procedures used in Mag2Pol, from setting up a structure model to applying absorption corrections and refining two data sets simultaneously.
The input and data files for the video tutorials can be downloaded here below.
The first series of online introductory courses on Mag2Pol took place in October 2022.