Environmental monitoring
ILL operates a laboratory for monitoring radioactivity in the environment. This laboratory is approved by the French nuclear safety authority (ASN) and is part of the French environmental radioactivity-monitoring network run by the IRSN (Institute for Radiation Protection and Nuclear Safety). The results of the measurements are published via this network.
What exactly do we monitor?
Our laboratory monitors radioactivity in all sectors of the environment. This involves taking some 1500 samples a year, resulting in 5000 separate analyses.
First of all, water of all types is monitored by our laboratory: rainwater, groundwater, river water (from the Drac and the Isère), as are all the site's non-radioactive water outlets: storm water, waste water, cooling water.
The air doesn't escape our attention either: ambient radioactivity levels are monitored and air samples are analysed for the presence of tritium, radioactive aerosols and iodine.
Our monitoring activities also concern terrestrial bioindicators, such as cow's milk, grass and certain agricultural produce (lettuce and maize), and aquatic bioindicators, such as fish and reeds. Finally, samples taken from soil and riverbed sediments are also analysed in order to monitor for radioactivity. There is a great deal at stake, since the aim is to ensure that ILL's activities have no radiological impact on the food chain in Grenoble and the surrounding area.
Two types of monitoring are performed: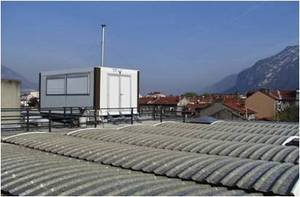 Direct and continuous monitoring, via the monitoring stations situated in various parts of the Grenoble urban area. There are two stations to the north - one at the foot of the weather mast at the tip of the Presqu'ile and one further to the north-west at La Rollandière - and two stations to the south - on the roof of the Chorier-Berriat swimming pool and at Le Mûrier above St Martin d'Hères.
Time-delayed monitoring, based on the laboratory analysis of samples collected at regular intervals. The intervals at which samples are taken are fixed by law; they may be taken once a year, as with maize, for example, or much more frequently, as is the case for water.
The laboratory also has portable equipment for use in the event of an accident, in the form of two intervention vehicles equipped with radiation monitoring instruments.
In the event of an accident, it is important to be able to predict how fast and in what direction any possible pollution clouds are likely to travel. ILL is therefore also responsible for the weather mast located at the tip of the Presqu'île, which measures temperature, wind speed and direction, and humidity.