Before your experiment -
NEW! Rules for access to radiation protection areas
In accordance with the French decree 2018-437 regarding the protection of workers against the risks of ionising radiation, the ILL must implement new rules for users working in controlled areas. These rules will be applied from the first reactor cycle of 2023.
Users coming for an experiment and working in the ILL's experimental areas should now comply with the following rules:
Non-exposed (NE) Users
- Proof of medical fitness for Category
A or B work Users must provide a signed authorisation form from their employer at the ILL ZAC entrance (Download here (pdf - 106 Ki), 106ki).
- The number of days worked in radiation protection controlled areas must not exceed 20 days in a rolling one-year period. This is Users' responsibility to monitor.
- Once non-exposed Users reach this limit they will not be able to participate in experiments scheduled within the rolling one-year period. Any Users expecting to go over the 20 day limit should therefore begin the formalities for becoming a classified (A or B) User in their home institution.
Classified Users (categories A and B)
- Only classified A or B users (exposed to ionising radiation) are allowed to work in the experimental areas for more than 20 days in a rolling one-year period.
However, it is classified Users' responsibility to come to the ILL with
- Their employer's passive dosimeter
- Proof of medical fitness for Category A or B work
Further information for all Users
- The ILL continues to provide a non-nominative passive dosimeter to guarantee the measurement of neutron doses.il
- Nousers will be allowed to enter orange or red controlled areas under any circumstances.
- The Health Physics training test on the User Club website is mandatory for all Users (valid for 6 months).
Please remember to give back dosimeters at the end of your experiment(s).
FAQs for country specific questions regarding dosimeters
| | | |
| --- | --- | --- |
| Country | Question | Answer |
| ALL | Who has the authority to sign the User Authorisation Form? | There is no list of approved people who may sign this form, however line-managers or Head of Departments would be OK. ILL's radioprotection team will be doing random checks by survey. |
| UK | For exposed/monitored workers that do not have regular medical appointments, how do we bring a medical certificate? | For Users that do not have a medical certificate, please bring evidence (such as a letter) of being an exposed worker. This is mandatory. |
| GERMANY | Is the Strahlenpass a suitable medical certificate? | Yes |
| SWITZERLAND, ITALY, AUSTRIA | What should we do if we are not allowed to take our dosimeters outside of the country? | Please ask your institute to provide an official document stating that you are not allowed to leave the territory with your dosimeter. The ILL continues to provide a passive dosimeter to all Users. |
The first step is to create a new user account for the ILL User Club. You may have to wait up to 24 working hours for your account to be activated once it has been created. Once your proposal has been scheduled by your Local Contact, you will then receive an invitation to register for your experiment via the User Club.
New reactor building access procedures: administrative screening ('criblage') is now mandatory for all people requiring access to the reactor building ILL5 (Levels C and D). The User Office can only submit the application for screening to the authorities once all the personal information in your User Club account is accurate and up-to-date. The following information is mandatory on your User Club account:
Surname
First name
Employer
Date and place of birth
Nationality
Passport or ID number
Type of contract
Medical service
Dosimetry level
Social security number (click suggest if not a French resident)
It takes the authorities up to 21 days to process security screening and the ILL will only send the application for screening once you have registered for the experiment. Visitor access requests including access to ILL5 must therefore be submitted as early as possible - i.e. 3 weeks before the visit. By filling in your invitation on the User Club, the administrative screening process will be automatically sent to the relevant authorities. There is therefore nothing for you to do besides registering for the experiment well in advance.
When the screening process is complete and access granted, the information will be added to the personal data section on your User Club account.
---
Adding a new scientist to the experiment team
All scientists must have a User Club account before they can be added to a team
As a proposer you can add a scientist via your User Club account: click on "Register for experiment(s)", select the experiment, go the the "New Experimenter" section, complete the box "add another scientist". Scientists can only be added if they have entered all their personal data in their User Club account.
If personal data is missing from the scientist's account, please send an e-mail to the User Office - user-office(at)ill.eu - asking us to add the scientist to the experimental team. Give us the user's name (exactly as shown in their account), experiment number and date of experiment. We will add them to the team and send them an invitation to register (once they've added the missing data).
If you think you may need a visa, please contact your nearest French embassy or consulate prior to your visit for information on the documents you will be required to produce.
Please contact the User Office if you require an invitation letter or a convention d'accueil.
If you need a convention d'accueil, please send the following information by email to the User Office:
Surname (family name)
First name (given names)
Gender (M or F)
Date of birth
Nationality
Status/profession (ie PhD student, Post-Doc, Research Assistant, ...)
Private address in country of residence
Name of employer
Employer's address
Experiment number and instrument
Dates of your experiment
Mobile phone number
Photocopies of your most recent (and highest) diploma
Visa fees are not reimbursed by the ILL.
Health & Medical Insurance
Make sure that you are insured for illness, hospital treatment and industrial accidents.
Ensure that the address of your workplace health physics/medical service is up to date in your User Club account. The ILL Health Physics service will send your radiation dose record to this address after your visit.
Please complete the health physics training test on the User Club website. If you plan to perform an experiment at the ILL you are obliged to take this test (valid for 6 months).
All users of the ILL facilities must comply with both French and ILL safety regulations and administrative procedures. Any ancillary equipment brought in by the user must be compliant with French regulations.
If an experiment has special safety requirements (e.g.: use of radioactive isotopes or chemically or biologically hazardous materials), this should be made explicit in the proposal.
Please read the leaflet (docx - 1.98 Mi) on what to do in the event of medical emergency, fire or technical accident or on hearing the site or building alarm.
To perform experiments at ILL, there is no need to be classified as a category NE or B radiation worker. The only exception concerns experiments performed on the instrument PF2, for which category B radiation worker status is obligatory. You must supply a medical certificate; see more information below. Following completion of your experiment, your film badge dosimetry results will be sent to your own health physics or occupational medical services (the one you have entered in your User Club account).
Please read the information below very carefully if it concerns you. Some procedures take several weeks or months to process.
Pregnant women and nursing mothers - Please read carefully safety note 2003/03 (pdf - 73 Ki) on ionising radiation during pregnancy and nursing.

Pace-maker carriers - Please consult the medical service before going into the experimental halls.
PROCEDURES FOR ACCESSING RESTRICTED AREAS (pdf - 111 Ki) - please read carefully how to use your badge and dosimeters.
Contacts
If you are in any doubt, please contact the following persons:
Safety Engineers
Isabelle Perbet
+33 (0)4 76 20 76 74

Health Physics

Amel Petitrenaud
+33 (0)4 76 20 71 67

Biology

Véronique Mayeux
Safety Officer for Biology and Biochemistry (EMBL-ILL)
+33 (0)4 76 20 94 05 (phone)
Information for visiting scientists on the hazards present at the ILL
1. Conventional hazards
The conventional hazards which may be encountered when preparing and conducting an experiment on an ILL instrument are divided into two categories:
the hazards inherent in any activity carried out in the ILL's experimental work areas, namely fire, electrical and material-handling hazards.
the specific hazards associated with the experiment or its preparation: fire/explosion (flammable substances), chemical hazards (dangerous gases, toxic substances), biological hazards, non-ionising radiation (ultraviolet (UV), infrared (IR), lasers, magnetic fields), cryogenics, work at height.
NB
If you need to use the chemistry laboratories, you must complete an online training module beforehand (you can access this module via the User Club). In addition, on your arrival, you will be given an introductory safety tour by the Laboratory Responsible.
For information on biological hazards, please see the relevant section: Important instructions for biological samples
2. Radiological hazards
The experimental areas are either Radiation Supervised Areas or Radiation Controlled Areas. However, the level of exposure of visiting scientists to ionising radiation corresponds to the radiation protection classification "non-exposed worker", for all the ILL instruments except instrument PF2 for which classification as a category B worker is required. (For information: Non-exposed: annual dose of less than 1mSv; category B: annual dose of less than 6 mSv).
NB
To obtain authorisation to access the experimental areas, you must take the online health physics training module (you can access this module via the User Club).
The ILL assigns a passive dosimeter and an electronic dosimeter to all guest scientists in order to quantify their level of exposure in its installations. Guest scientists who already have a passive dosimeter from their employer must wear this dosimeter in addition to those provided by the ILL.
3. Safety requirements
Guest scientists must comply with the safety regulations set out in the documents they are given (user handbook, health physics regulations, special instructions for specific experiments, laboratory information leaflet).
Please read the PROCEDURES FOR ACCESSING RESTRICTED AREAS (pdf - 111 Ki).
Sample radiological control
We remind you that it is of the utmost importance that all samples be measured for radioactivity by the Health Physics service after the experiment.
We have installed a new sample-control procedure. The ILL's invitation form has changed as a consequence.
From now on, you are asked to specify the name of the person who is responsible for the samples (one person per experiment).
The nominated person must be sure to have the samples properly checked by Health Physics before leaving the ILL.
S/he will be considered responsible if this is not carried out. If s/he is not able to come to the ILL at the last minute, s/he must contact the User Office and communicate the name of the new responsible for the samples.
Many thanks in advance for your collaboration.
Special Instructions for PF2 users
We would like to inform you that, in compliance with French safety regulations, we are obliged to ask all users of the instrument PF2 to provide a medical certificate (or an equivalent certificate from their employer) stating that they are properly authorised to work with ionising radiation and that they have regular medical check-ups at their laboratory, i.e. as Designated Radiation Workers.
The whole experimental team must make sure that they obtain the certificates before their arrival. They must hand them to the reactor security staff when receiving their film badges.
Failure to do so means that you will be forbidden from entering the experimental area on PF2 (reactor Level D).
Alarm protection for isolated workers
If you are required to work in isolated conditions outside normal working hours during your stay at ILL, you must carry a portable alarm (known as a PTI). This device makes it possible to raise the alarm if you are in difficulty and to identify your geographical location in the experimental area. It can be otained from the security staff at the reactor entrance on Level C (ground floor).
For more information please ask your Local Contact and refer to Safety Note 2005/03 (pdf - 298 Ki) (French version here (pdf - 301 Ki)).
Important instructions for biological samples
The biological safety of experiments performed on macromolecules at the ILL depends on a sample sheet (docx - 32 Ki) you must fill in and submit once you receive the safety letter related to your proposal. It is crucial to fill out the sample sheet correctly. In case of DNA or oligonucleotides, indicate if of native, synthetic or other origin (ie commercial). For biological agents, please make sure that all details are given. A French decree dated 18 July 1994 defines a list of pathogens with their risk classification (pdf - 52 Ki). The ILL does not accept biological samples classed higher than Hazard Group 1. For proteins, full details must be given. Is the protein toxic, oncogenic, or biologically active? Does it present any risk to human health or the environment? DO NOT use abbreviations. Give the function of the sample (e.g. kinase, scaffold protein or hypothetical or unknown function, etc.). For highly purified proteins, you should detail the source of origin and the host organism in which the protein is expressed.
According to the Commission de Génie Génétique, the French Genetic Engineering Commission, now replaced by the HCB (Haut Conseil aux Biotechnolgies), proteins occupy two risk classes:
A (no danger to human health and/or environment) or
B (presenting a danger to human health and/or environment). All toxins fall under category B.
For proposals involving GMOs please provide the GMO license number and date of license release.
The French decree of 30 July 2004 details some biological agents and takes into account the notion 'all or part of' (tout ou partie) of the agents. With the new regulations (Décret du 30 juin 2010 and Arrêté du 30 avril 2012) the notion of 'all or part of' has been redefined as follows:
For toxins and toxin fragments, authorization is required when the sequence is more than 167 amino acids.
For genetic materials, authorization is required when DNA and/or RNA sequences are more than 500 base pairs.
For experiments involving samples of human origin, scientists must comply with the export regulations of their home countries and submit an import/export authorisation form (doc - 139 Ki) and transport label (xls - 28 Ki) to the French Ministry of Research via the ILL/ESRF Bio Safety Officer. In addition to these forms and labels, users should submit the following:
a brief summary of the research project;
an accompanying letter from the head of the home institute research department, stating the importance of the research project involving human samples;
a testimony of the innocuousness of the samples related to HBV, HCV and AIDS virus;
a letter stating that the samples have been collected with the prior consent of the patients and that no money has been exchanged in any form to collect the samples.
Without such authorisation, no human sample can enter French territory to be analysed on ILL instruments. Please, note that authorisation takes at least 1 month.
ILL will check the sample sheet submitted with the proposal and the contents of the safety letter received from the Biosafety Officer, and will then notify you if any other documentation is needed.
Finally, an agreement with airport security at Geneva, Lyon and Grenoble airport customs and police has been set in place; you must carry an accompanying letter provided by the ILL/ESRF joint Biosafety Officer (Véronique Mayeux phone +33 (0)476 88 22 03) only when you are travelling home with your dewars or dry biological samples. No agreement exists for liquid samples. The letter (in French) must be signed by the person transporting the samples and the ILL/ESRF joint Biosafety Officer. You may request an English translation of the letter either for your information or for the airline, depending on which company you are flying with. The joint Biosafety Officer should be contacted well in advance for the provision of this letter, especially when the letter is required for travel at the weekend; details of the person transporting the samples have to be transmitted to the airport authorities in advance of travel.
Users travelling via Lyon or Grenoble airports should ensure that the dewars comply with IATA special provision A152. It is strongly recommended to contact your airline prior to travel to check specific constraints regarding weight and size. Ensure that any old labels are removed prior to travel.
It is strongly recommended that samples should be shipped by "agreed" carriers such as FEDEX, UPS, DHL, World courier, TNT.
The ILL does not provide any such letter for scientists travelling back to UK on Eurostar with samples and may be subject to a security check by Eurostar authorities. See Eurostar section.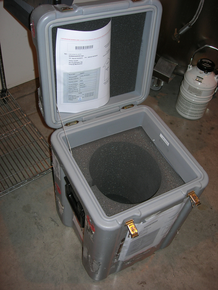 Carrying samples to London on Eurostar
Scientists travelling back to the UK with samples on Eurostar may be subject to a security check by Eurostar officials.
To obtain authorisation from the French authorities prior to departure, users should send the following information to the address given below:
Type of sample concerned
Reason for transporting the sample
Name of sample responsible(s) during transport
Date and time of train to London.
Direction régionale des douanes de Paris
A l'attention du Pôle Action Economique
16 rue Yves Toudic
75010 PARIS
Email: pae-paris(at)douane.finances.gouv.fr
Once the authorities have processed the request, authorisation is sent to the user as well as to the sacurity staff so that the sample is not opened during transit.
Please note that x-ray screening will be carried out, given the levels of vigilance currently applicable under the French "VigiPirate" anti-terrorist programme,
Scientists may also contact:
Eurostar Security Standards Management Security Pass Office
St Pancras International
Pancras Road, LONDON NW1 2QP
In January 2017, the EU Commission has published a Charter for Access to research infrastructures in close cooperation with the ESFRI, the e-infrastructure Reflection Group (e-IRG), and the European Research Area stakeholder organisations. This charter sets out non-regulatory principles and guidelines as a reference when defining access policies for RIs.

In this context, the ILL has defined its own User Access policy, defining the principles and guidelines for access to ILL infrastructures and related services.
All users participating in experiments are obliged to comply with the ILL User Access policy. They are asked to commit to this when submitting their proposal (by ticking the box 'I agree with the ILL access policy').

The complete document can be found here (pdf - 305 Ki).
ILL Consumables - UK Users
UK Principal Investigators who have succeeded in obtaining beamtime at the ILL may request support for the cost of consumables from ISIS.
If you wish to apply for support, please complete ISIS's "ILL consumables request form" application form, which can be downloaded from the ISIS web page: http://www.isis.stfc.ac.uk/apply-for-beamtime/consumables4411.html and send it together with a full copy of the successful proposal to the ISIS User Office.